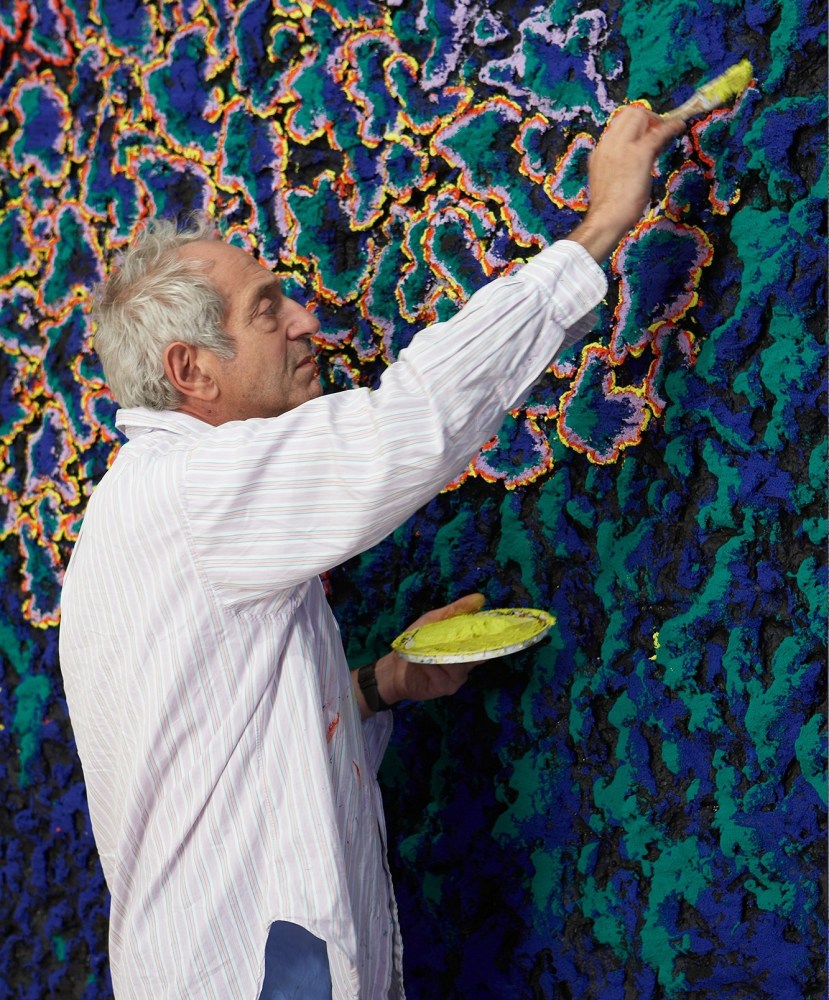 Born in Beirut in 1949, Nabil Nahas moved to the United States in 1969 to attend LSU where he obtained his BFA then moved to New Haven to earn his M.F.A. at Yale University in 1972.
In 1973 he moved to NYC, and divided his time between New York and the Hamptons. Having spent the civil war years in New York, he went back in 1993, 18 years later to Lebanon for a visit. He now spends his time between New York and Lebanon where he paints his "trees" emblematic of his country of birth.
Celebrated for his three-dimensional, multi-layered paintings marrying geometry and nature and bursting with vivid color and texture, Lebanese-American artist Nabil Nahas' first solo exhibition in France, "Grounded in the Sky", proposes two series of recent works and a never-before-seen outdoor sculpture – his largest to date – evoking a mysterious marine creature. On show until June 13, 2023, at Château La Coste in Provence, the artworks are spread across two gallery spaces of the wine estate: the Renzo Piano Pavilion and the Old Wine Storehouse rehabilitated by Jean-Michel Wilmotte. Large-scale cosmic "Constellation" compositions, referencing both seabed and sky, appear to be pulsating, in perpetual movement, while tortured, apocalyptic depictions of trees emblematic of his homeland – cedars, olives, and palms – transform the space into a gallery of botanical portraits, where each appears to lay bare its soul, as viewers are plunged into the artist's heavy-hearted mental landscape.
He had his first retrospective at the Beirut Exhibition Center in 2010.
Nahas represented Lebanon in the 25th Bienal de São Paulo in Brazil (2002),
His work was included in "Glasstress 2011," a Collateral Event of the 54th Venice Biennial, and in "Glasstress: New York '' at the Museum of Arts and Design in New York (2012).
Nabil Nahas's work is in museum collections, including that of MATHAF: Arab Museum of Modern Art, Doha, Qatar; GUGGENHEIM Abu Dhabi, United Arab Emirates; TATE Modern, London; FLINT Institute of Arts, Flint, Michigan; The METROPOLITAN Museum of Art, New York; MUSEUM of FINE ARTS, Boston; PENNSYLVANIA Academy of the Fine Arts, Philadelphia; HIGH MUSEUM OF ART, Atlanta, GA; COLBY MUSEUM, Maine and the Portland Museum of Art; Maine.
Nahas had his first solo show at the Robert Miller Gallery, NY in 1977. He later joined the HOLLY SOLOMON gallery in 1986 and has been showing with the SPERONE WESTWATER gallery since 1997.
His most recent works have an all-over composition suggestive of biological growth and the patterning of nature, as in Full Spectrum (1999). In his more recent paintings, including Untitled(2007), Nahas has introduced imagery referencing the trees and other plant life of his native Lebanon..